Janet is a Contemporary Visual Artist and Art Educator based in North East Victoria, working from the Blue Studio in Wangaratta.
Hello.. my studio hours vary so please contact me if you have any enquiries or are interested in purchasing my art or engaging a commission.
My Work
The focus of my work is predominately figurative
Self Portrait of a Passionate Art Teacher
oil on canvas 76x76cm
Portraiture
It is important that I explore a depth of realism in my portraits, capturing the nuances of the face, the eyes, the special character of the person and push the contrast of the real figure against a more expressive or decorative background.
The Stripy Bikerider
oil on canvas, 76x76cm
I enjoy playing with color, layering various colors of oil paint to develop an interesting base on which to place my figures.
I really want to develop work that pushes the boundaries and the use and placement of color.
Landscape with Leaves
oil on canvas, 76x76cm
I love painting people, capturing moments & everyday activities of the human condition.
More increasingly I want to show a quick snapshot of lives, events and times that are personal to me but also just those casual encounters that can be anywhere.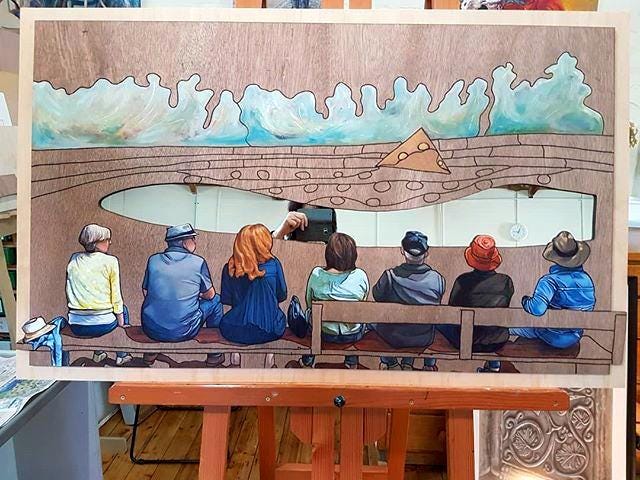 Gallery
Visit my Gallery to get a feel for the range and style of my work.
If you don't see what you're looking for, get in touch and I'll be happy to help.
Find me at The Blue Studio
The Blue Studio is my Artist Studio located in the heart of Wangaratta's CBD.